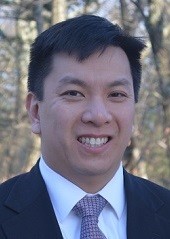 David T. Ting, MD
Assistant Professor of Medicine, Department of Medicine, Harvard Medical School, Cambridge, MA
Principal Investigator, Massachusetts General Hospital Cancer Center, Charlestown, MA
Assistant Physician, Hematology/Oncology, Massachusetts General Hospital Cancer Center, Boston, MA
Dr. Ting is Assistant Professor of Medicine at Harvard Medical School and a medical oncologist with a focus on gastrointestinal malignancies at the Massachusetts General Hospital (MGH) Cancer Center. After receiving undergraduate degrees in chemical engineering and biology from M.I.T., he completed his medical degree at Harvard Medical School. He completed internal medicine residency at the MGH and medical oncology fellowship in the combined Dana Farber Cancer Institute and MGH Cancer Center program. During his undergraduate and medical training, Dr. Ting trained with Robert Langer in the MIT Chemical Engineering Department working on nucleic acid delivery vehicles and George Daley at the Whitehead Institute on stem cell biology. He performed his post-doctoral training with Daniel Haber at the MGH Cancer Center, where he began work characterizing circulating tumor cells (CTCs) and primary tumors with RNA-sequencing.

The Ting laboratory utilizes RNA-sequencing and RNA in situ hybridization technologies to understand the complex transcriptional landscape of pancreatic cancer, one of the most lethal adult cancers in great need of advanced diagnostics and therapeutic strategies. The laboratory has used these technologies to identify non-coding sequences in RNA (ncRNA) that are differentially expressed in cancer versus normal tissues. This has provided novel insight into the pathogenesis of pancreatic cancer and offers a method to identify novel biomarkers and therapeutic targets. In parallel, Dr. Ting's laboratory uses innovative microfluidic chip technology to capture pancreatic CTCs as a non-invasive cancer biomarker as well as a means to understand their role in the metastatic cascade.